1-Year Money Back Guarantee
Not satisfied? Return your product and we'll give you a full refund— even if the product is empty

Return your items, no questions asked. We'll even cover the return fees
4 DIFFERENT STRENGTHS OF 100% PURE BLACK SEED OIL
Everyone reacts differently to black seed oil. We're the only company offering 4 different oil strengths, making it easy for you to safely add black seed oil to your life. The strongest oil has 3.52% thymoquinone content.
Recommended by The Holy Prophet for everything.
Over 20000 Of Satisfied Customers
I have passed on to many people who are now are your new customers. I have posted your site for people to purchase for what ever reason. I am hoping they enjoy your products as much as my husband and I do. I will keep passing on your product as much as people need. Thank you for such a great product. Theresa. I have been purchasing from your company for a few years. Will keep purchasing.
I tried the vitamin shoppe Black Seed Oil, and your product is better. I'm back as a regular customer.
Great Product, the Oil, and the Black seed soap, I use on a daily bases. Truly Love these products. I would strongly recommend the Black seed oil to anyone.
I feel good and I hope many more will use the Blessed seed Oil and benefit from it.
"People are very happy with the Blessed Seed oil and keep coming back for more."
Oh my God! the pure organic honey is unbelievable & so is the soap and the extra strong black seed oil bottle . I am an avid Blessed Seed customer. Thank you so much for bringing to us, these high ingredient products.
Our black seed products are 100% natural and cold-pressed giving you the most possible properties. We're dedicated to providing you with the best black seed products in the market.
6X MORE EFFECTIVE THAN MOST
Black seed oil's unique capabilities are found in its essential oils, which can vary from 0.3% to 6.3%. Most companies have an oil content of 1% or less. Our strongest oil contains a guaranteed essential oil content of up to 6.3% with 3.52% thymoquinone — over 6X more than most other brands.
Simply put, our black seed oils are the strongest available in the world
High quality oils begin with high quality seeds.
We source our seeds from Bangladesh, Ethiopia, Turkey, Egypt or India.
Using chemicals to extract oils makes the oil taste awful. We never use chemicals.
Excessive heat destroys the oil's healing compounds. We cold-press our seeds at a maximum of 40 degrees celcius.
Slower-pressed seeds retain more healing compounds. That's why we press our seeds as slow as possible.
We bottle our oils immediately in amber glass to keep temperature down and light out. This retains the oil's potency.
Add It To Your Life. JUST 10 SECONDS A DAY.
From King Tut to the Prophet Muhammad, black seed oil was highly recommended. Now you can try it for yourself too.
Mix our oil with a snack or take it straight from a spoon. It takes just 10 seconds.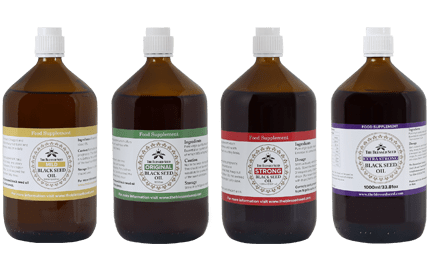 Founded in 2002, The Blessed Seed has been helping individuals to be provided with the blessings of these products contained in Nigella Sativa— or black seed.
Many of our customers discover black seed as powerful natural product. We've dedicated ourselves to bringing you the best qulity and the strongest of properties of black seed oil in the market.