WE OFFER 3 DIFFERENT STRENGTHS AND THE STRONGEST BLACK SEED OIL IN THE WORLD WITH FREE SHIPPING WORLDWIDE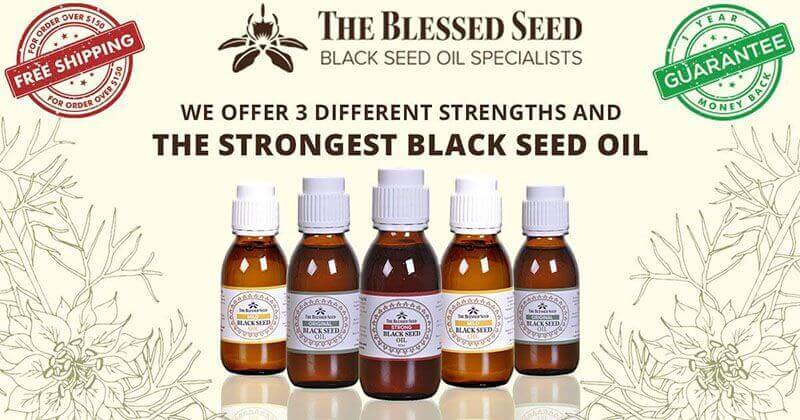 INTRODUCING... THE WONDERFUL HEALING POWER OF
THE ORIGINAL AND BEST BLACK CUMIN SEED OIL IN THE WORLD.
Hold on to the use of the black seed for indeed it has a remedy for every disease except death.
-The Holy Prophet (SWS).
SPECIALISTS
We are specialists in black cumin seed oil having produced the oil since 2002 and with the help of Medical Herbalist Antoine Pouget we have identified the important ingredients in black cumin seed oil.
Our strong oil has a very high amount of volatile oil. The amount of volatile oil differs depending on the hybrid and where the seed is grown. For countries with extreme heat the content of volatile oil is increased.
One of the important components that makes black cumin seed oil so unique is the content of volatile oil. Black cumin seed oil normally contains between 0.5% to 1.2%.
Our oil is 100% pure virgin quality cold pressed black seed oil.
Our strong black seed oil which has about 4.3% is unique to the market.
Almost all black cumin seed oil will have a certain amount of volatile oil in its content.
This volatile oil is what makes the oil pungent, noticeably our product is more pungent.
Many of the studies have concentrated on the volatile oil. It is the aromatic oils that contain most of the following activities:
ANTI-OXIDANT
anti-inflammatory
anti-microbial /anti-fungal
anti-tumour
immune enhancing activity
Please view our action of volatile black seed oil page
We produce our oils using the correct cold press method. This ensures that the valuable healing components are not damaged which can occur when the oil is pressed at a higher speed. Our oils are 100% pure with absolutely no additives
EXPLORE THE HEALING POWERS OF BLACK CUMIN SEED OIL
You can apply black seed oil directly onto any inflamed, injured or irritated area:
Allergic respiratory conditions
Under active immune system
Over reactive Immune Systems
Rheumatic and Arthritic pain
Over reactive Immune Systems
Cough, Colds & Flu
Bruises and injuries
Liver & Gall bladder complaints
Kidney and Bladder problems
Intestinal Parasites
DISCLAIMER: Please note that these applications are taken from traditional and modern applications. In the case of illness one should always contact a physician to be absolutely sure. The statements made here have not been evaluated by the FDA, and as such, shall not be construed as medical advice, implied or otherwise.
"I feel good and I hope many more will use the Blessed seed Oil and benefit from it."
- Syed K I Shah FRCSI, Orthopaedic Surgeon Lancashire Teaching Hospitals, UK.
Our strong Oil is potentially
3 times more powerful
Than other oils on the market
Our black seed oil is special due to the high content of volatile oil (which most researchers have concentrated in their studies of how black seed oil works). This is important for immune system support, rheumatism, inflammation, high blood pressure, allergies, candida, thrombosis, parasites, salmonella (food poisoning) and many, many more.
We're proud to be unique in offering such a high quality oil, and assure you – if you're looking for the strongest Black Seed Oil available, this is the only oil you should be considering.
WE HAVE SO MUCH CONFIDENCE IN OUR OIL, WE EVEN OFFER A
1 YEAR MONEY BACK GUARANTEE!
We'll even pay the costs of sending the products back to us (which may be a completely empty bottle), with no questions asked. No other company dares to offer this. We do, because we know our product works!
"As soon as I applied it, I felt relief! The oil cleared up the candida within a week, and my skin colour is back to normal!"
- Samantha, Nurse London.