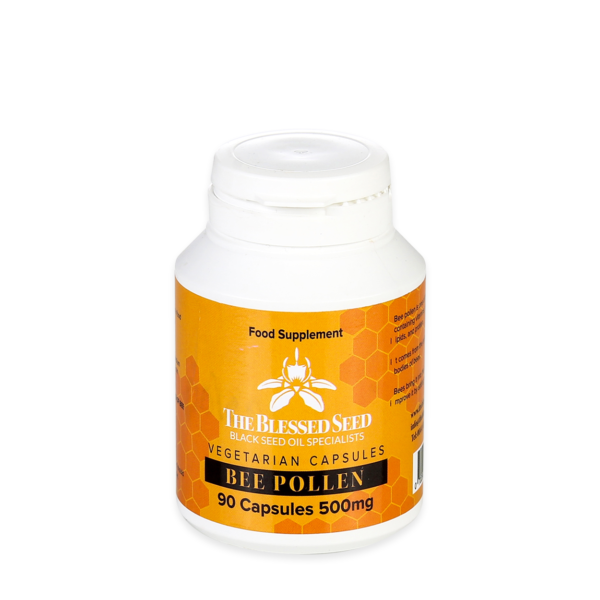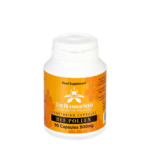 Bee Pollen Capsules – 90 x 500mg
£8.50 — or subscribe and get 10% off
Our bee pollen capsules are completely vegan, and rich in essential amino acids along with containing many other compounds and minerals to improve your quality of life.
Quantity discounts
1

£

7.20

2

£

6.48

3-5

£

6.12

6-10

£

5.76

11-23

£

5.40

24+

£

5.04
Description
Additional information
Reviews (0)
Description
Bee Pollen (90 x 500mg) Vegetarian /Vegan capsules
Ingredients
Bee pollen powder (equivalent of 500mg)
magnesium stearate (vegetarian)
vegetable capsule shell – hydroxypropylmethylcellulose, silicon dioxide
Just like our black seed oil, bee pollen is another natural miracle that holds a lot of benefits. In fact, according to researchers at the Institute of Apiculture in Russia, "[it is] the richest source of vitamins found in nature in a single food."
It is one of the most abundant sources of the bioflavonoid rutin, which strengthens capillaries and is also high in ribonucleic acid (RNA) and deoxyribonucleic acid (DNA). Bee pollen has been found to be antifungal, antimicrobial, antiviral, hepatoprotective, immunostimulating and a potent anti-inflammatory.
What's incredible about bee pollen is that it is used even by professional athletes in Europe to increase energy, stamina and strength, and is also great for relieving pain and facilitating the granulation process necessary for the healing of burn wounds.