WE OFFER 3 DIFFERENT STRENGTHS AND THE STRONGEST BLACK SEED OIL IN THE WORLD WITH FREE SHIPPING WORLDWIDE
What is black seed oil?
The Black Seed is as an extraordinarily therapeutic and versatile medicinal herb.  It is commonly known as Nigella sativa, black cumin seed, black caraway and kalonji. It has been admired and used for almost 4000 years. In Arabic, it is 'Habbatul barakah' – the seed of blessing, because the Holy Prophet Muhammad (s.a.w) said:
"Hold on to the use of the black seed for it has a remedy for every disease except death."
Archaeologists discovered nigella seed from around 1650 BCE. It was found in a Hittite flask in north-central Turkey. The ancient Egyptians thought black seed oil was important to include in the tomb of their pharaohs. It is said Cleopatra used it to enhance the beauty of her skin. For centuries, the seed was well known in the Mediterranean, India, Southeast Asia. In the Middle East, it is regarded as one of the most powerful natural remedies
The Blessed Seed is the only company that offers three different strengths of pure  black seed oil.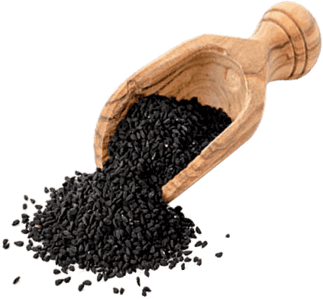 Traditional uses
The advantage of this ageless home remedy is that it works holistically without the adverse effects of modern drugs. It is safe enough to use in the home for a vast amount of conditions but it is also powerful enough for practitioners to employ for serious diseases.
Traditionally, black seed extract was recommended for a variety of maladies, acute and chronic, from respiratory disorders to allergies, cardiovascular complaints, digestive issues, skin infections, wounds, parasitic infestations, rheumatoid arthritis, high blood pressure, and liver problems. It is a prominent remedy in many medical systems, such as Unani, Ayurveda, and TCM (traditional Chinese medicine), not only for curing a disease but also for promoting good health and general well-being.
Despite the long and impressive history of use, it was almost unknown in the west until fairly recently. Scientific research into the black cumin seed only began in the early 1970s but steadily increased as investigators realized its extraordinary therapeutic potential as a painkiller, antioxidant, anti-inflammatory, antimicrobial, immunomodulator, bronchodilator, antihypertensive and antihistamine. They also determined black cumin oil to be antitumor, antidiabetic, hepatoprotective, gastroprotective, and anti-cancer.
Current research repeatedly confirms what has been known for millennia – black seed is a miracle herb that positively influences every organ and system in the body. What is even more surprising is that black cumin seed oil can help us with particularly modern conditions like chemical weapon poisoning, addiction to pharmaceutical opioids, and metabolic syndrome. Metabolic syndrome is not a disease per se but a clustering of certain health conditions, including asthma, high blood pressure, male fertility, female fertility, high blood sugar and insulin resistance, abdominal obesity and abnormal cholesterol levels. It is becoming increasingly common and puts people at risk for heart attacks, strokes, fatty liver disease, diabetes, and cancer. Learn more about the benefits of black seed oil.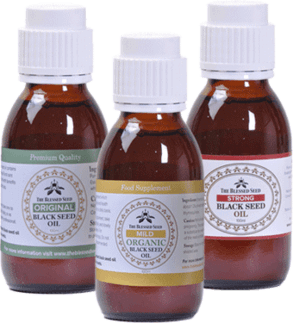 Our oil is 4-5 times more powerful
Most of the pharmacological effects of black seed oil are due to the content of the volatile oil. Thymoquinone is the most scrutinized component of the volatile oil as it is the major bioactive one responsible for most of the therapeutic properties. The more volatile oil there is, the more thymoquinone we can expect to be present and therefore, the more healing capabilities. Our findings reveal that the volatile content of the black seed can vary widely, depending on the hybrid, the growing conditions and the location of the crop.
All our oils are analyzed immediately after pressing and we have sourced nigella seeds with the highest amount of volatile oil. Our Mild oil has a volatile oil percentage of about 1.2, comparable to most other oils on the market, which is generally between 0.3 and 1.2%. Our Original oil has 1.5-1.7% of volatile oil, but the jewel in our crown is our Strong blackseed oil. This typically contains between 4.3 and 4.9% volatile oil – 4-5 times more powerful than most other oils available. This is 100% pure oil with absolutely no additives remains unprecedented.
Our Quality Guarantee
If you are looking for a healing oil that will benefit you to live the healthy, you only want the best. We maintain our best quality through vigilance and constant analysis. We maintain the highest standards so you only receive the finest black cumin seed oil. Because of our practices and stringent checks, we are so confident in our products that we offer you a 1-year, no questions asked, money back guarantee.
Try one of the premium black seed oil for 1 Year. If you're not completely satisfied, simply return your bottles to us (even if they're empty!), and we'll refund you. What do you have to lose? Our return rate is about 0.01%.
For a product that the Holy Prophet recommended, was found in the tomb of Tutankhamen and used by the ancient healing Masters, you can't go wrong. Learn more about the amazing black seed oil benefits and black seed oil dosage
I use the original black seed oil for practically everything, from an upset stomach to Sinisitus and with fantastic results.
THE BLESSED SEED IS THE ORIGINAL & BEST BLACK SEED OIL PROVIDER, AVAILABLE IN THREE DIFFERENT STRENGTHS!
The volatility of black seed oil
Most essential oils sold in the market has a volatile oil content of 1%. This makes our strong oil potentially 4-5 times stronger than most oils.
The volatile oil has been the center of many studies done on this remarkable essential oil.
The percentage of volatile oil will differ
– Depending on where the seed is grown.
– The hybrid of seed used
This is a fantastic product. It helps regulate blood sugar so in combination with the correct diet it helps to alleviate many illnesses. It is also ideal as it strengthens a weak immune system, and also rebalances it as is the case with allergies. The stronger oil is ideal for respiratory problems. There are many other health benefits as already mentioned before including – balance total cholesterol, fighting cancer cell and for weight loss. There are no side effects of black seed if taken moderately. However, it is not suitable during pregnancy.
All that suffering for 3 years, then a cure within a week – it is truly the blessed seed! I am a Nurse, and I now recommend it to my patients
The oil is wonderful it seems to cure lots of different ailments….and the quality is excellent. I use it as a food supplement add it to other oils to make a facial moisturizer etc. It is my family cure all !
Both my mum and I take the blackseed oil in capsules twice a day and we have noticed that our digestive system performes a lot better while on and and it boosts our metabolism also. Hope this information helps.